There are plenty of reasons to create a rain garden in your yard other than the obvious aesthetic benefits. By planting and maintaining a rain garden, you're improving groundwater, protecting streams and lakes, and preventing flooding!
A rain garden's main purpose is to capture and filter runoff contaminants like fertilizers, pesticides, oils, and other common pollutants from your home and yard into the ground. When rainwater is filtered into the ground through a rain garden, it replenishes local aquifers and protects your home and community from flooding issues.
In city and suburban environments, stormwater carries a ton of these pollutants from roofs, driveways, or parking lots into the storm sewers you see on streets. This can be harmful to our streams and lakes, but a rain garden captures and filters that water before it reaches our precious water systems.
If you're looking to create a successful rain garden, you'll first want to understand these important conditions.
LOCATION
Think about the location of your rain garden in relation to your house.
A rain garden near your house will capture runoff from your roof, but a rain garden further out in your yard can capture runoff from your roof, lawn, and entire property (depending on how far out you plant it). Pay attention to what areas in your yard receive rainwater from downspouts, driveways or other low points.
It's recommended to place your rain garden at least 10 ft. from your house. The location of septic tanks and underground utility lines is also something to consider. You don't want to plant your garden above them.
SLOPE & DRAINAGE
Without the right amount of slope, you'll have no rain garden. The slope must be at least 1 in. for every 4-1/2 ft. so your water can flow into your rain garden. You'll need a level and a long, straight board for this.
Even if a certain location has enough slope to carry the water, it may not be able to filter water properly. Avoid areas where water commonly pools because this means the ground has inadequate drainage.
You can place a river rock or underground 4-in. PVC pipe from your down spout to garden to help the flow of water.
OVERFLOW ZONE
You can expect to receive heavier than average rain storms every once in a while. Large amounts of rain will likely overflow your rain garden. Prepare for this by creating an overflow zone. Place stones on the lower side of your rain garden to guide water away once the garden fills up.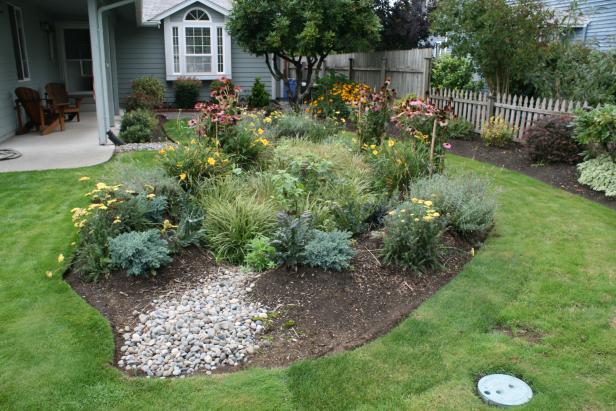 GARDEN DEPTH
One thing you will have to determine is the depth to plant your garden. Ideally your garden should fill during an average rainfall or thunderstorm but drain within 24 hours after that same rainfall.
The depth of the garden is based on how quickly the soil absorbs the water. Try to dig a small test hole in your yard and let some water run into it. Once you know how fast it drains, you can choose an adequate depth for your garden.
Keep in mind that a garden dug in sandy, well-draining soil will drain water a lot quicker than a garden in poorly draining clay. Therefore, a garden built in soil can be dug much deeper because it will be capable of filtering water at a faster rate.
GARDEN SIZE
Similar to garden depth, garden size is influenced by the amount of water that will flow into your garden. You can calculate precise measurement based on rain collected for a 1-in. rainfall for best results. It's also effective to create a smaller rain garden that simply fits your landscape.
PLANT SELECTION
The best plants for your rain garden are any deep-rooted native plants. These plants will be most effective at filtering and draining water and are equipped to survive the growing conditions of a rain garden.
In Wisconsin, any of the following plants would be a great addition to your rain garden as they are tolerant of most soil and sun conditions:
Bottle Brush Sedge
Fox Sedge
Foxglove Beardtongue
Golden Alexander
Nodding Onion
There are a variety of plant options to choose from, but these are a good starting point for a new rain garden.
A rain garden is a wonderful way to help runoff pollutants from going into storm sewers and then into streams, rivers, and other larger bodies of water. Plus, they'll attract a variety of birds and butterflies to your living space!

If you're interested in creating your own rain garden, check out these guides from the Wisconsin Department of Natural Resources, including a listing of plants to add! You can also learn more about how we can protect our waterways with resources from NEW Water.

Remember to check out Washed Ashore: Art to Save the Sea at the Garden this summer, and discover the connections between plastic waste, the wellbeing of marine life (and us!), and learn everyday actions that we can all take to make a difference for the Great Lakes and beyond!